Today we are all more focused on keeping our kitchens and bathrooms clean. While you aim to get rid of germs and microbes, it pays to understand how to clean effectively without accidentally damaging the faucet surface or functionality.
How often do you think about cleaning your faucets and washbasins? Probably more now than you ever did before. Keeping your kitchen and bathroom surfaces sparkling clean can help you fight germs and illness. But doing it with harsh cleaners can also cause damage to your faucets. Here are a few simple guidelines for how to keep your faucets clean while helping them stay shiny and beautiful for longer.
1. Start with the right cleaner
These days, we may find ourselves reaching for the strongest, germ-killing cleaner we can get our hands on. A milder cleaning agent (pH 6-9) is sufficient for killing common germs and will still protect your faucets.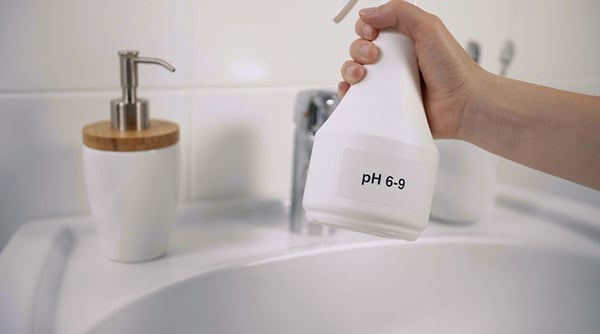 2. Spray the cloth, not the faucet
Applying the cleaner directly allows it to get into the seams of the faucet where rinsing is impossible. This could cause the faucet to corrode over time. Spraying the cleaner onto the cloth instead is a safer way to clean that will prolong the life of your faucet.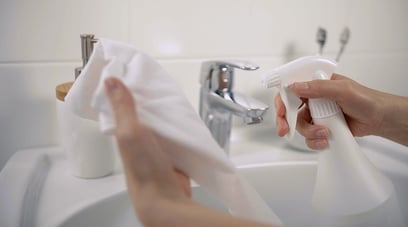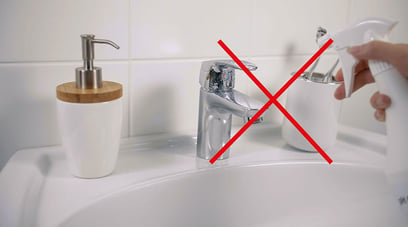 3. Clean all the nooks and crannies
Get all the way around the base and in all the nooks and crannies – and don't forget the aerator. For most models, you can remove it with a small tool or with your fingers. Brush it with a toothbrush and put the aerator back in place.


4. Rinse and dry thoroughly
Rinse with plenty of lukewarm water making sure to remove all the residue from the cleaning agent. Finish by wiping the faucet dry with a soft cloth. This is important to prevent the resurgence of bacteria.
---

TIP: Don't forget high-touch surfaces

Doorknobs
Light switches
Refrigerator and microwave doors
Drawer handles
Any cooking or eating surface
Toilet handles

---
As long as you are cleaning your faucets and washbasins, don't forget all the other high-touch surfaces your family leaves a million fingerprints on every day. We suggest cleaning bathroom surfaces last to slow the spread of germs.
Make a daily habit out of cleaning faucets
It may seem like a big job on paper, but when you make a daily habit out of cleaning your faucets and surfaces, the chore becomes much quicker and easier. And it can go a long way towards creating a cleaner, safer home.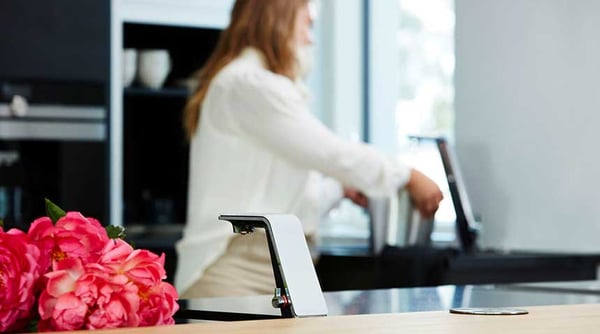 How often do I need to do this?
For safety's sake, we recommend cleaning the surfaces every day and the aerators once a month. To create a routine, try cleaning the faucets every evening while washing up or first thing in the morning while coffee is brewing.
Do I need to wear gloves?
Gloves are recommended but if you don't have any, just be sure to wash your hands before and after you clean.
If I use gloves, do I need to wash them afterwards?
If you are planning to reuse them, yes. But use separate gloves for the bathroom and the dishes. Once you're done cleaning:
Wash your gloved hands with soap and water
Dry them
Pull the gloves off and store them
Wash your bare hands
Touchless faucets can help beat the spread of germs
With so many germs forming on and around the faucet, automatic or SMART faucets are a good solution for keeping surfaces cleaner and preventing illness. And they can help save water, too. Browse our selection of SMART faucets for inspiration.