The production of Oras faucets is a complicated process with multiple stages, most of which are carried out manually. The level of quality is controlled at every stage. We joined Nordic sales manager Marko Sundholm for a visit around the Oras plant in Rauma, where some 3,000 faucets are produced every day.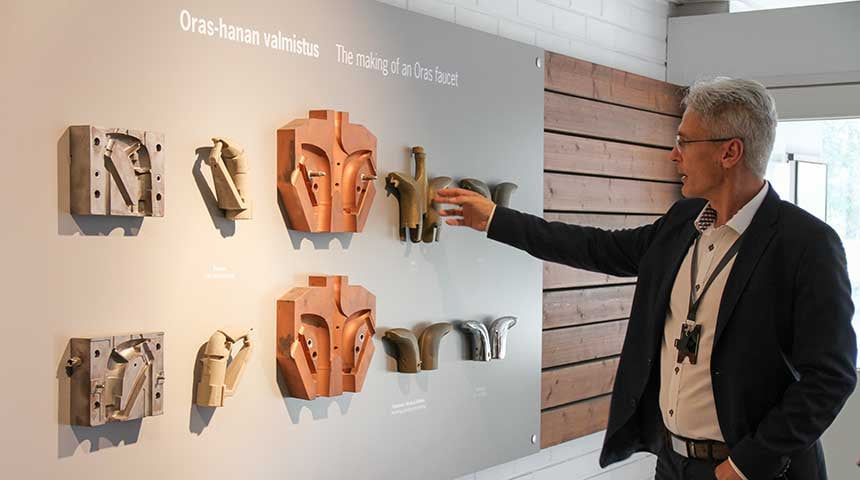 Nordic Sales manager at Oras, Marko Sundholm, explain the faucet manufacturing process
The production of Oras faucets is partly automated, while most work stages are still carried out by hand. Briefly put, the work stages are core building, casting, sawing, machining, grinding, polishing, chrome-plating, assembly and testing. However, a lot of work has already been done before these: a new product has been designed and its production has been simulated on a computer, after which casting has been tested and adjusted until it is perfected. Oras makes all the tools, shell moulds and core boxes required during casting.
Casting starts from brass bars and cores
The most important ingredient in faucet production is brass, from which the faucet body is made by means of casting. The core is a central part of the production process, as it forms water channels in the faucet body during casting. A solid core is made from fine sand and a hardening agent by heating in a core box.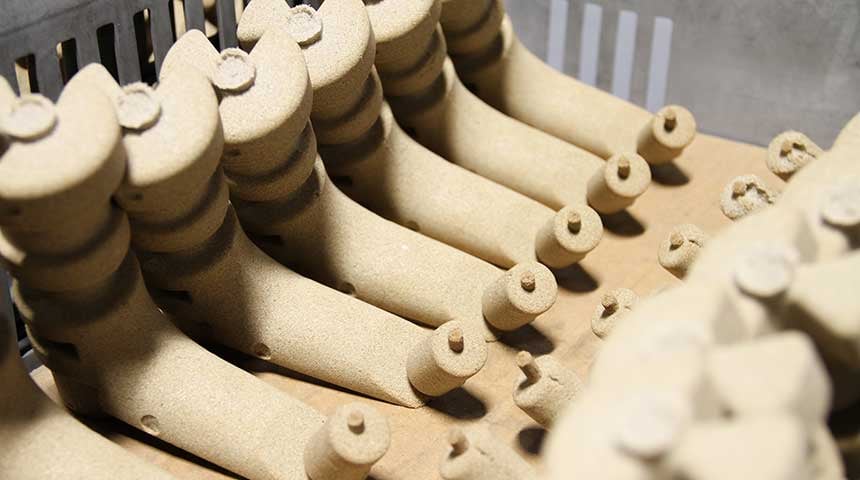 The core is made from fine sand and it forms the waterways for the faucet body during casting
Pallet loads of brass bars are delivered to the plant's foundry. The bars are made of special brass which withstands dezincification.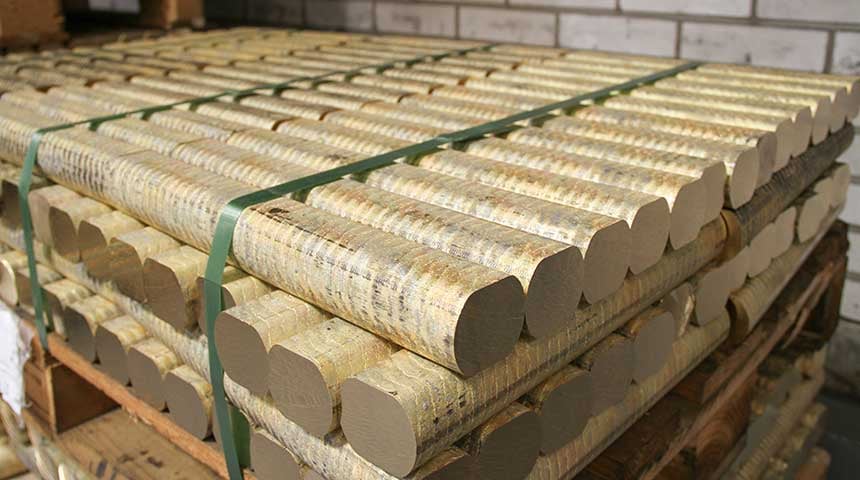 Brass bars used in Oras faucets are made of special, dezincification resistant brass
"Unlike in, say, Central Europe, tap water is acidic in the Nordic countries and corrodes water pipes. Even though it is safe to use every day, it is chemically aggressive. This is why normal brass is not good for us," says Marko Sundholm, Nordic Sales Manager.
During casting, the shell mould is dipped into a water and graphite solution. The caster (the person responsible for casting) places the cores inside the mould and removes any loose sand from the shell mould using compressed air.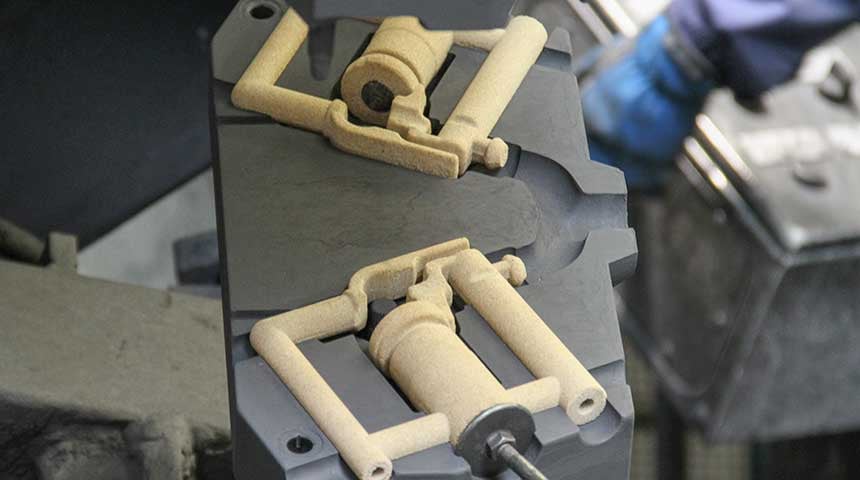 The cores are placed inside the mould.
The mould is sealed and placed in the blazing hot casting chamber of the casting furnace. Three tons of molten brass flow from the casting furnace into shell moulds. The core maintains waterways open inside the mould, to which technical components are installed and through which water flows through the faucet.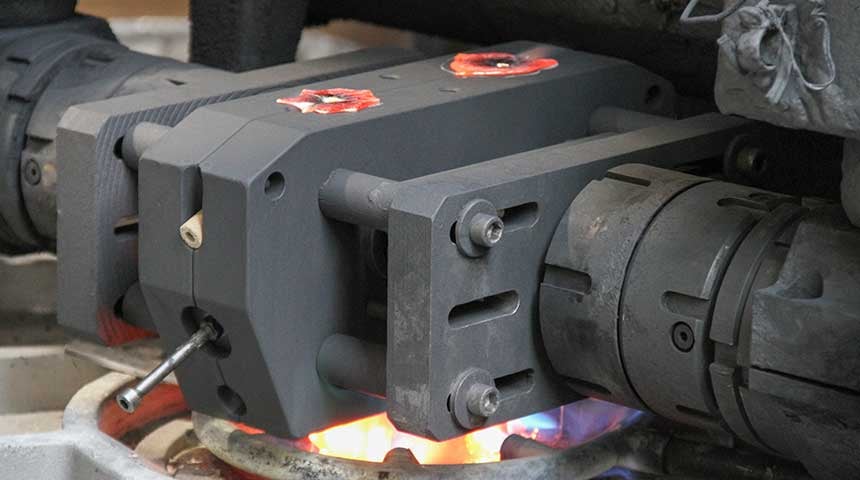 Molten brass flows into the shell moulds
After brief cooling, the caster uses tongs to move the cast to cool down. Next, the core is removed from inside the faucet body by whirling it in a mill equipped with metal balls.
Faucets are sawn and ground to their final shape
Cooled faucet bodies delivered from the foundry are separated from each other by sawing, and any parts that were necessary during casting but not included in complete faucets are removed. At Oras, the sawing process includes both automated and manual steps.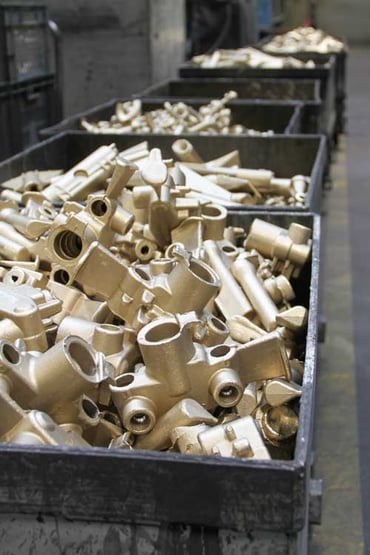 Brass faucet bodies ready for further processing
"We have increased the level of automation during this work stage, but some difficult components make this a tricky process," Sundholm says.
Faucet bodies are then placed on a conveyor belt, which moves them through automated machining, grinding and polishing processes. The initially produced rough surface is made smooth during a complicated grinding process. The ground metal surface is polished flawless. Finally, employees inspect the level of quality visually and by hand. Small batches of special products may be ground and polished manually. Minor repairs may also be carried out by hand.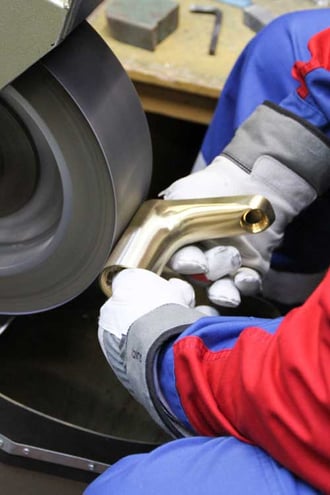 Small batches of special products and repairs are still done by hand to ensure flawless result.
"Any brass left over from the sawing and machining stages does not end up as waste. Instead, the precious raw material is recovered to the production. Sawing waste is melted in the casting furnace and cast again. Machining chips are returned to the brass supplier that uses them in the production of new bars. The bars delivered to us contain only a small amount of new brass," Sundholm says.
Chrome plating allows no errors
Finally, faucets are chrome-plated. Chrome makes the surface hard, shiny and wear-resistant.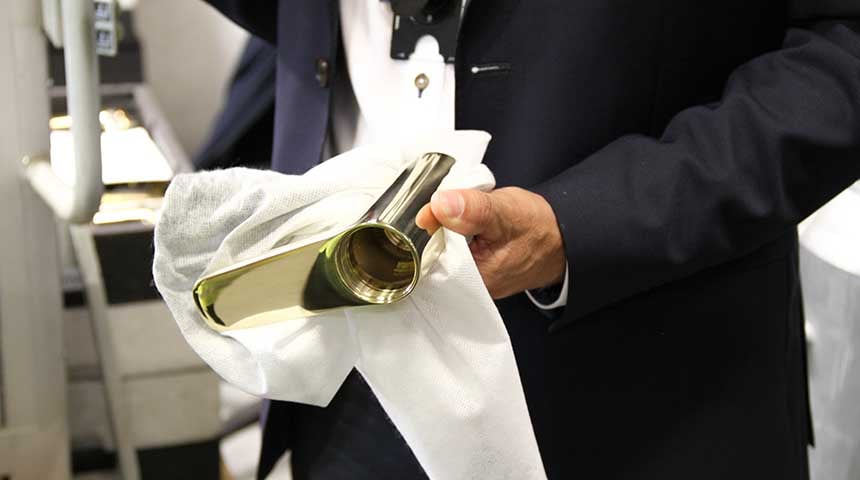 After polishing, faucet bodies should no longer be touched by bare hands to avoid having finger prints in the chrome-plating.
"Product surfaces need to be flawless before chrome-plating, as chrome is a ruthless material. It does not cover, but rather highlights, even the smallest of errors," says Sundholm. All visible plastic and composite parts are also chrome-plated. Plastic and composite parts are made at Oras' plastic production department.
A line of chrome plated faucet parts.
Plastic is a more challenging material to plate with chrome than brass: "Plastic needs to be made electrically conductive to make chrome-plating possible. Plastic parts are plated with a copper layer and then with a nickel layer to form a flexible layer underneath the plating to protect the surface from thermal expansion," Sundholm explains.
Chrome-plating takes roughly two hours, during which products undergo different soaking and washing stages 40 times. After chrome-plating, products are inspected before assembly. Any markings, such as the brand logo, are added at this stage. Currently, products are mainly marked by using a laser.
Technical components are installed inside the faucet body
Oras makes the components installed inside the faucet body itself. These regulate the water flow and temperature, among other things.
"The soul of a lever faucet is called a cartridge, and it has remained identical and unchanged in all Oras models since 1982. The cartridge regulates the water flow and temperature to give the correct amount of water at the desired temperature. Cartridges are made in Rauma. Every component is marked to make them traceable," Sundholm says.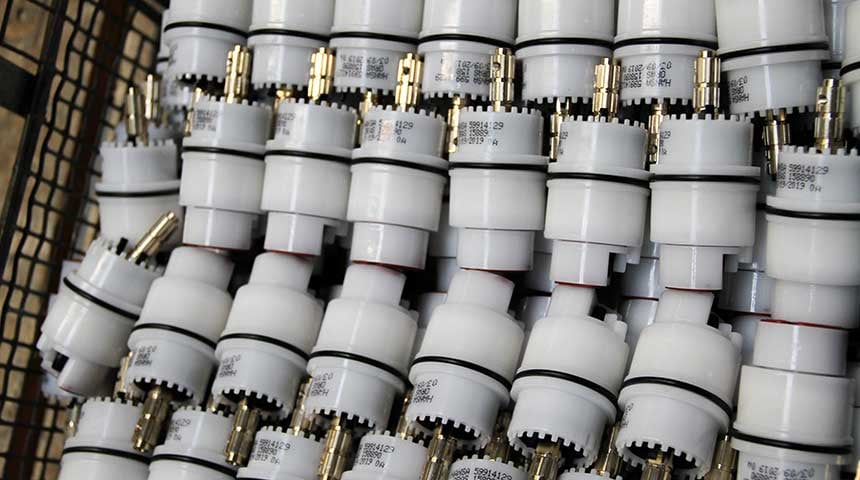 The soul of a single-lever faucet: The cartridge
Many different regulations and standards need to be addressed in the design process. According to Sundholm, lowering the sound level down to an acceptable level is the most time-consuming part of research and development. "The sound level is tested in a separate laboratory, in a floating concrete room, which is fully silent," he says.
Components and any electronics that are significant, especially in more advanced water fixtures, are installed inside faucets during assembly. Oras faucets are assembled by hand and automatically, while the final inspection and quality control are always manual processes.
"An average of 3,000 faucets are manufactured at the Rauma plant every day. One per cent of completed faucets undergo spot checks. Finally, faucets are packaged in their sales packaging, ready for shipping round the world," Sundholm says.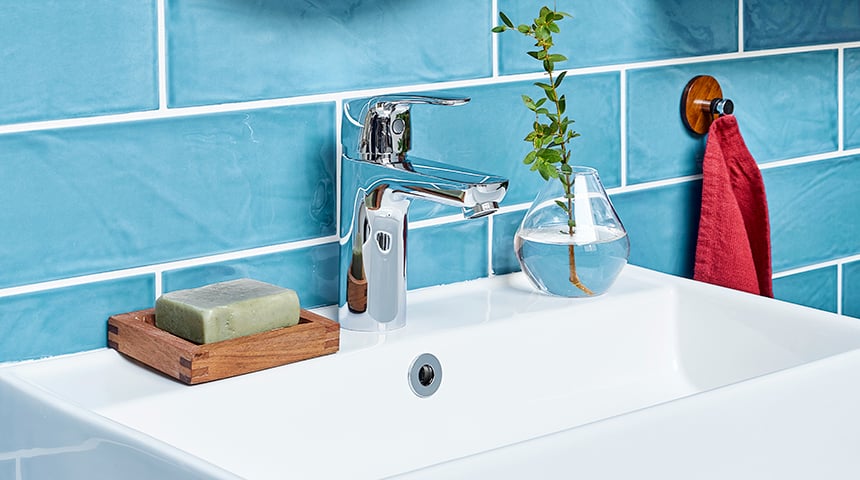 And here is the end result: Oras Safira washbasin faucet.
Latest articles