Viruses, bacteria or germs - every person is exposed to a wide variety of pathogens every day. If these enter the body via the nose, mouth or eyes, they can lead to infections. The simplest and most effective protection: regular and thorough hand washing. Touchless fittings, such as the modern automatic faucets for the private, public and semi-public sectors from Oras, improve additional safety and ensure maximum hygiene.
Hygienic and strong in design at the same time: the Oras Electra.
Around 80 percent of all infectious diseases are transmitted via the hands with which we - consciously or unconsciously - touch our face an average of 16 times per hour.* Correct hand hygiene can thus significantly reduce the risk of even absorbing pathogens via the mucous membranes or passing them on to others. The hands should be carefully cleaned for about 30 seconds, lathered with soap and washed with clear water. The great advantage of contact-free fittings: since the water flow is activated via sensor control, no skin contact is necessary. This reduces the risk of transferring bacteria or viruses from the hands to the surface of the fitting. The surface remains largely free of dripping water from the hands and thus remains hygienically clean for a long time.
Hygiene and comfort in (semi-)public spaces
Special standards and guidelines apply in health care facilities, such as doctors' practices or nursing homes. Here, touchless fittings ensure maximum hygiene and safe water access. However, this should also be guaranteed at all times in other (semi-)public areas - such as schools, offices, hotels, restaurants or cinemas. Wherever many people meet, the number of viruses and bacteria is naturally also greater. Appropriate hygiene measures are therefore essential. Touchless faucets such as the Oras Electra or Oras Medipro prevent the transmission of pathogens and at the same time ensure maximum comfort. The sensor reacts precisely to the user's hands. No part of the fitting needs to be touched and the water flows and stops automatically at a preset temperature. The temperature can also be controlled and adjusted easily.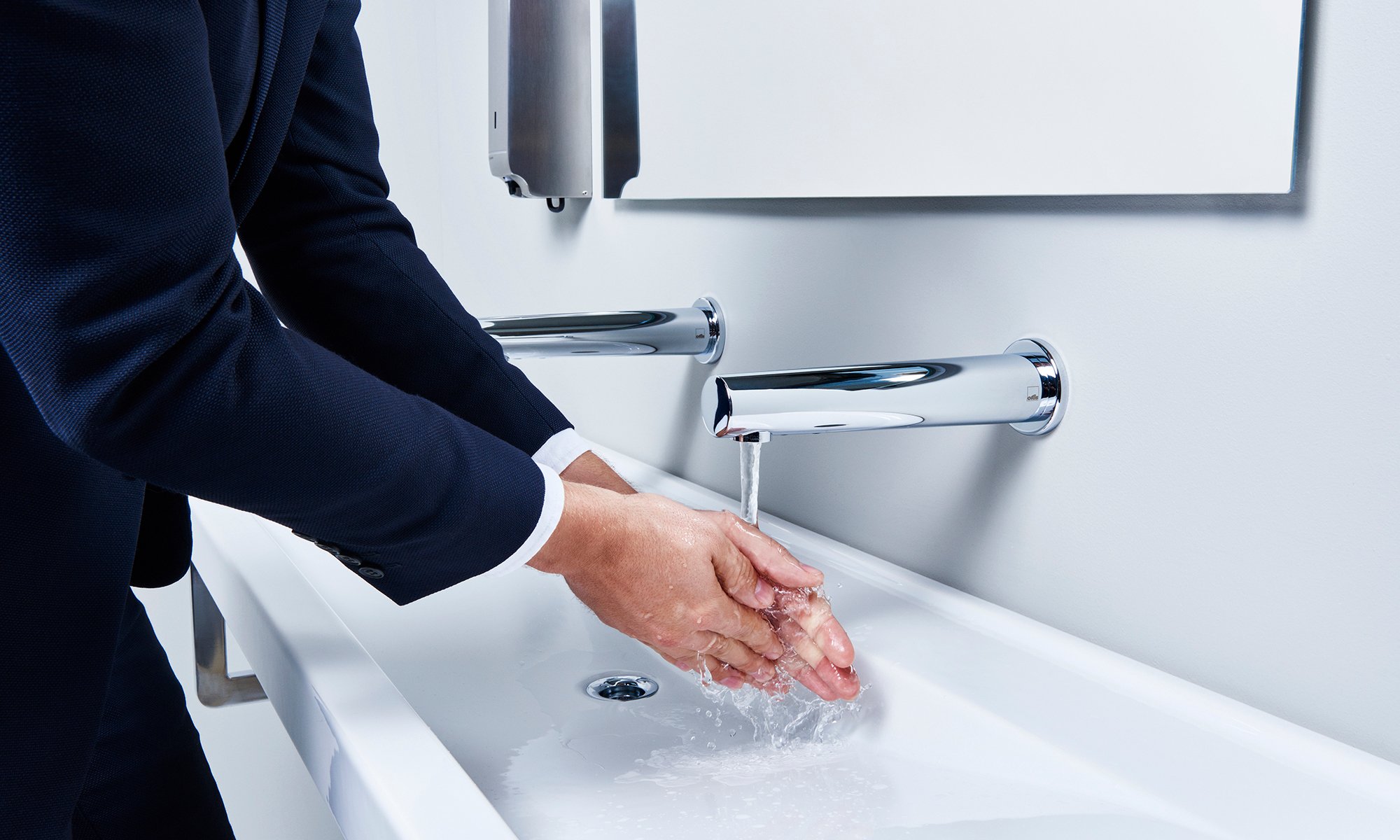 In public spaces, touchless fittings such as Oras Electra ensure maximum hygiene and safe, comfortable use.

Touchless at the private washstand
Aspects such as safety, comfort and accessibility in private bathrooms remain a central issue. Touchless fittings, such as Oras Inspera, are also convincing here thanks to their intuitive use - and that across generations. Children understand the function immediately and older people are also pleased with the simple operation of the fitting. Regardless of factors such as water drops, light reflections or reflective surfaces, its sensor with autofocus reliably detects the position of the hand to stop or increase the water flow. Thanks to the pre-settable temperature, water use is always pleasant and safe.

An eye-catcher at the private washstand: the touch-free Oras Inspera.
* Source: Study on hand hygiene by SRH Heidelberg, 2018.
Further information: www.oras.com