In the health & care sector, highly sensitive hygienic and ergonomic requirements must be met every day. The new models in the Oras Clinica special faucets series are designed to do just this. In addition to the laminar water flow, which minimizes the spread of microbes, optimum and hygienically perfect drinking water quality is guaranteed through nickel-free waterways and the connection via copper pipes.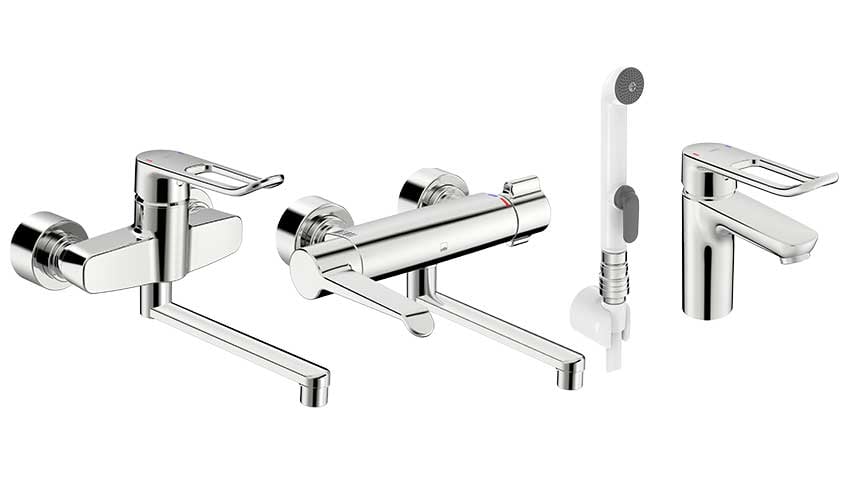 High

body and ergonomic handles ensure effortless user experience
The new Oras Clinica single-lever mixers with a generous, higher body provide more space to operate and freedom of movement under the spout. The Oras Clinica range faucets have also a new, ergonomic lever that can be easily operated with just one finger or the back of the hand. The flexible handling is not only a great help for nursing staff: for patients or persons with physical disabilities, the independent everyday life is optimally supported by the easy operation of the faucet.
Safety and hygiene

in focus
At the same time, the design with its rounded edges enables easy cleaning of the faucet body while also reduces the risk of injury in case of a sudden fall. The increased easiness of cleaning and hygiene applies to all Oras Clinica faucets: the wall faucets with long spout that can be swiveled by up to 120 degrees and locked in the center position. Thanks to the concealed and triple-sealed connections, germs and bacteria cannot settle behind the cover.
Quick and easy to install
Thanks to the Oras 3S-iInstallation system, installation is easy, fast and safe. Here, all important components for fastening are integrated in one component. Sanitary installers can thus carry out all assembly steps precisely and quickly. The optimized assembly time ensures greater efficiency and thus has a positive effect on margins and customer satisfaction.
Latest articles