You're in a hurry and so is your customer. Here's how you can help them choose the right faucet – and be sure they call you for all their plumbing needs.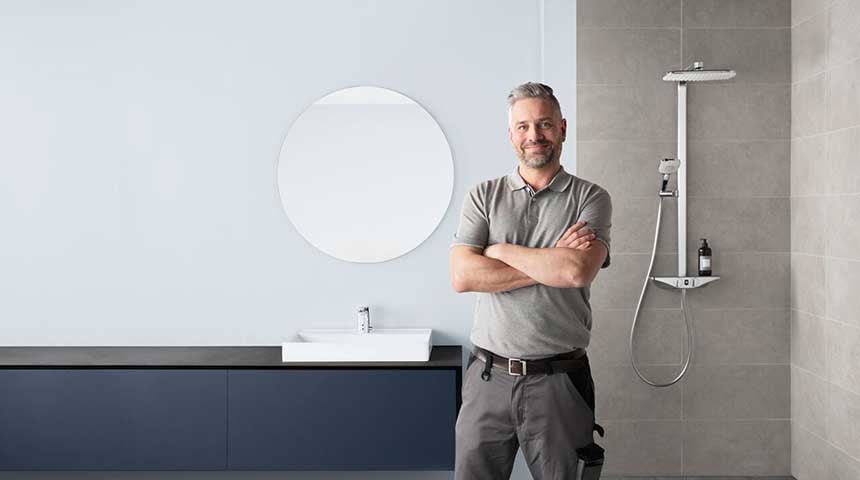 When helping your customer to find a best faucet for their needs, it is important to ask the right questions.
It may be tempting to let your customers choose their faucet out of a catalogue. If they do, they are likely to choose the design they like best without considering the needs they didn't know they had. By asking five simple questions, you can help them choose the faucet that meets their needs, keeping them happy and ensuring they call you every time they need a plumber.
Who will be using the faucet?
Where will the faucet be located?
What type of basin do they have?
How important is sustainability?
What's the budget?
---
1. Who will be using the faucet?
Start by finding out who lives in the home. Any small children or elderly people? Are there any special needs to consider for anyone living there? If so, safety and usability may be of high priority. The shape and colour of the faucet can make it easier to control for those with reduced eyesight or motor skills. The Oras Optima, for example, has an easy-grip black lever and an eco-button for limiting water temperature to prevent scalding. Similarly, Oras Vega features this convenient eco-button. The lock can be bypassed by pushing the button when there's need for hotter water or more water flow. Some faucets like Oras Optima kitchen faucet also features a temperature display which start blinking when water gets too hot. Specially designed for the elderly, the Oras Care product families feature ergonomic design and clear hot and cold markings for people with limited eyesight.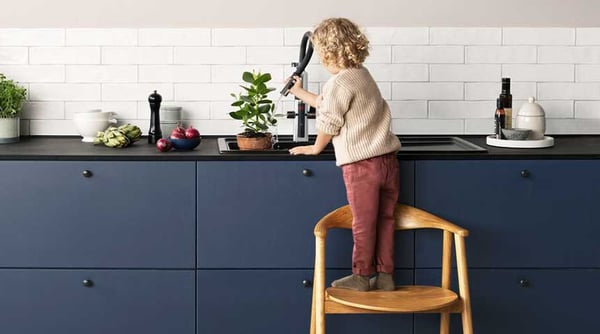 When choosing faucets, it is important to keep in mind who will be using the faucet and if safety features such as hot water lock or temperature display is needed.
In fact, a range of temperature control solutions are available from Oras. The Oras Minimat 200410 safety thermostat lets you pre-set water temperatures, while the Oras Minimat 200400 lets you define the maximum temperature. The Oras Minimat is available as a separate add-on and can installed to any Oras deck-mounted faucet. And, as with all single-lever faucets, you can limit the water temperature manually for your customer by simply adjusting the cartridge. See how.
Automatic (or touchless) faucets are a good option for both children and the elderly as they can help prevent any germs lingering on faucet controls from sticking to hands. This improves health and hygiene in the home and keeps everyone a little safer.
---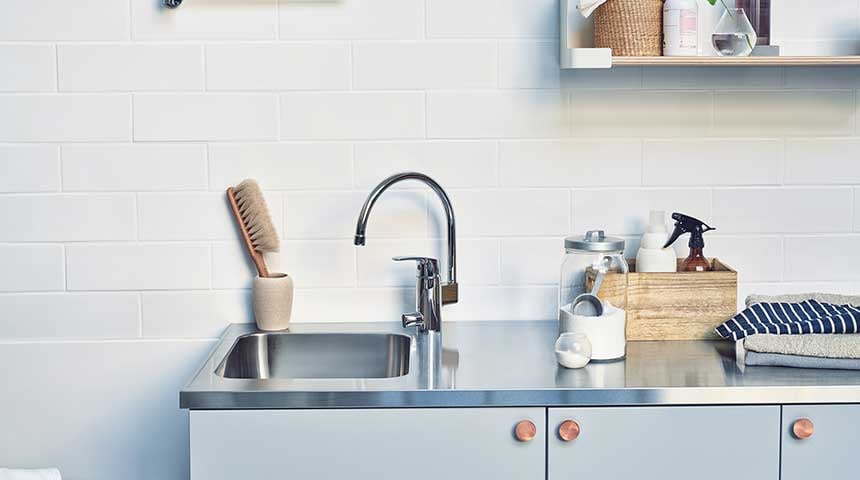 When choosing a faucet for kitchen or bathroom, consider whether or not a dishwasher valve is needed.
2. Where will the faucet be located?
If the faucet will be in the kitchen, whether or not the customer has a dishwasher is important. If they do, they will need a model with a dishwasher valve. If they don't, will they need to wash large pots and pans by hand? If so, they will need a higher spout.
Kitchen faucets with dishwasher valve, click here
If the faucet is for the bathroom, again, consider whether they need a washing machine valve. The distance from the sink to the toilet is also important in case a faucet with Oras Bidetta hand shower is installed (the length of the shower hose is fixed and, as a result, the distance between the toilet and faucet is limited).
Washbasin faucets with integrated washing machine valve or electronic dishwasher valve, click here
If the faucet is for the utility or laundry room, what tasks are they using it for? If they wash large machinery or equipment, will they need a higher spout? If they use it when changing their baby, perhaps a washbasin faucet with an Oras Bidetta hand shower is a good idea.
In all three cases, it's important to consider how much space is above and behind the basin. Is there a cabinet just above? How close is the wall? These parameters could pose limitations on the height or type of faucet control.
---
Oras Inspera washbasin faucet combined with a vessel sink with integrated faucet installation hole.
3. What type of sink do they have?
Ideally, your customer is choosing a basin together with a faucet. However, most often, the basin will already be in place, meaning you have to be sure they choose a faucet that fits the basin. Is the sink integrated into the countertop or is it a vessel sink?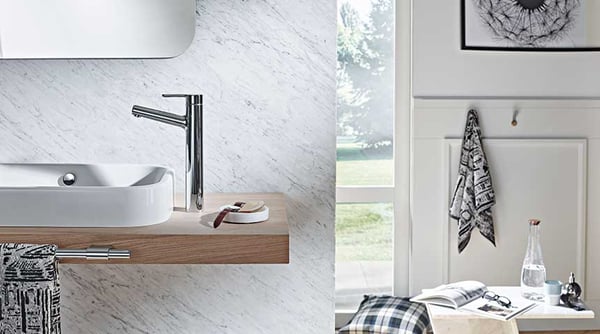 Vessel sink with higher body faucet Oras Inspera 3001F.
If it is a vessel sink, they will need a faucet with a higher body, such as the Oras Inspera 3001F. A wall-mounted faucet could also be a good option for the vessel sink, providing the right installation conditions behind the wall. If the sink is integrated, this opens up for many more options as shorter bodies work just as well.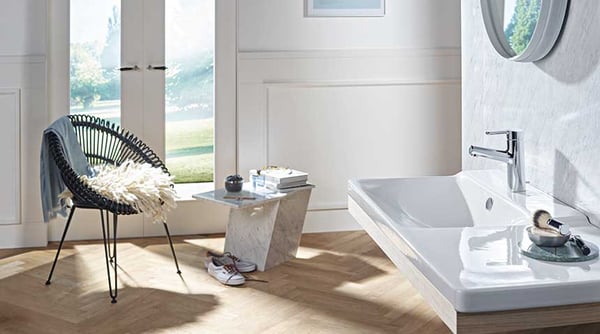 Integrated sink with small Oras Inspera washbasin faucet.
Also, consider how much space is between the faucet hole and the wall. Are there any limitations for the turning angle? Once you've determined which faucets suit these parameters, you can determine which faucet height and reach best suits the basin size and depth. Just make sure you balance the proportion of the faucet to the sink while also ensuring your customers get the best possible usability.
---
4. How important is sustainability?
A recent study shows that 61% of European consumers are concerned about the state of the environment. The further north you go, the more this concern turns into water-saving awareness. An average of 63% of people in the Nordics consider themselves to be eco-conscious, which reflects in their preference for sanitary fittings.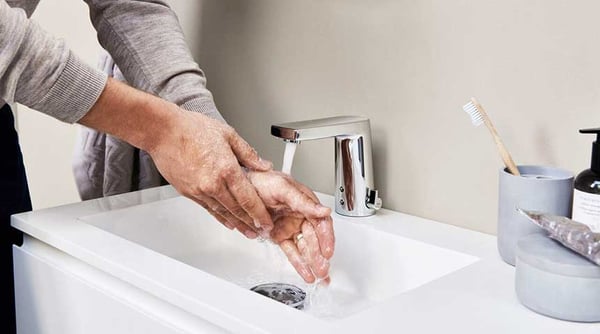 Touchless faucets can save up to 50% in water consumption compared to traditional lever faucets.
If your customer is eco-conscious, you can show them how they can save water by choosing the right faucet. SMART touchless faucets drastically reduce water and energy consumption as the water only runs when needed. In fact, SMART faucets can reduce water wastage by up to 50%.
If your eco-conscious customer is also considering a new shower, you may want to show them the Oras Apollo with water-saving spray option. In addition, the Oras Optima 7140 shower thermostat has an EcoFlow feature that saves water.
You may also want to mention to your customer that Oras single-lever faucets come with the possibility to add water flow limitations. This is simple to do in the installation phase by making an adjustment to the cartridge. See how.
---
5. What's the budget?
Many consumers believe that SMART faucets are more expensive than manual faucets but this isn't always the case, with a range of SMART and touchless faucets available at different price points. And, if you offset the water savings, the cost comes down. In any case, try to get a feeling of where your customers see themselves budget-wise. Are they low-budget, mid-range or premium in their approach? Figure this information out, then guide them to the faucets that suits their needs.