As consumers are becoming more eco-conscious, their preferences for faucet features change. Here are what modern consumers look for when choosing faucets for their household.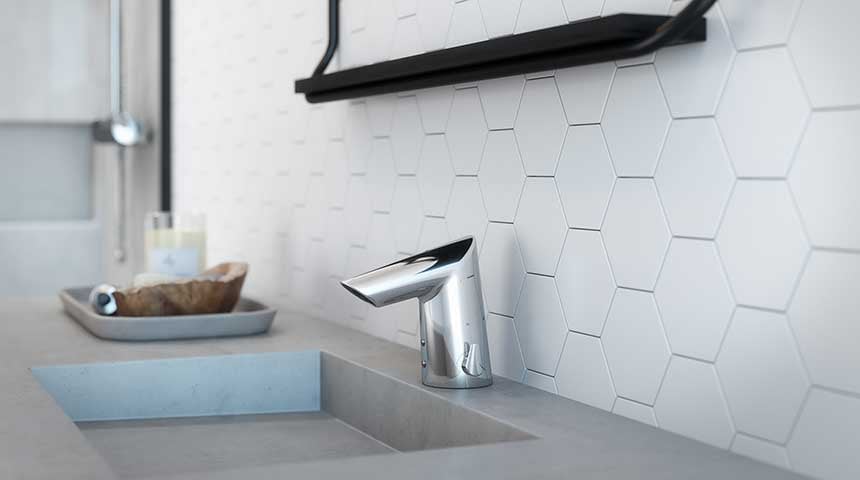 Oras Optima touchless faucets combined design with ecofriendly features.
According to a recent survey conducted by SynoInt for Oras Group*, 63 per cent of people in the Nordics consider themselves to be very eco-conscious. This reflects in their preference for faucet features.
Design and appearance are no longer enough
Did you know that more than half of Swedes [adapt to local market] says water-saving functions are important when choosing a faucet for their household? In other words, design and appearance are no longer enough. Today, customers demand products with high quality, durability and sustainability features.
– From our perspective, consumers are increasingly conscious about water and energy consumption. In combination with improved ability to measure one's consumption, the awareness amongst consumers grows stronger and expectations to products and services follow, says Robin Kegö, Portfolio Manager at Oras Group.
Kegö goes on to reveal the next big launch from Oras by the beginning of 2020.
–We are constantly developing and innovating to find new ways of meeting the customers' ever-evolving needs. By the beginning of next year, we are launching Bluetooth enabling on all touchless faucets. This technology provides a unique view into the consumption of a single faucet via a mobile app called Oras App. It also opens the opportunity to adjust the after-flow time and reactivity of the faucet which further helps saving water and energy, says Kegö.
The value of touchless faucets
A touchless faucet seems like the obvious choice for eco-conscious consumers. It drastically reduces the consumption of water and energy, as the water always holds the right temperature and only runs when needed. However, smart-functions and touch free technology need to be explained, according to Robin Kegö.
– We need to emphasize the beneficial features of touchless faucets, where water saving is one of many. Most consumers know automatic faucets from public facilities but may not associate them with domestic use. To get there we need to continuously communicate and educate about the additional value this technology provides in general. There are still many wrong beliefs like temperature cannot be adjusted, design options are very limited or prices are extremely high.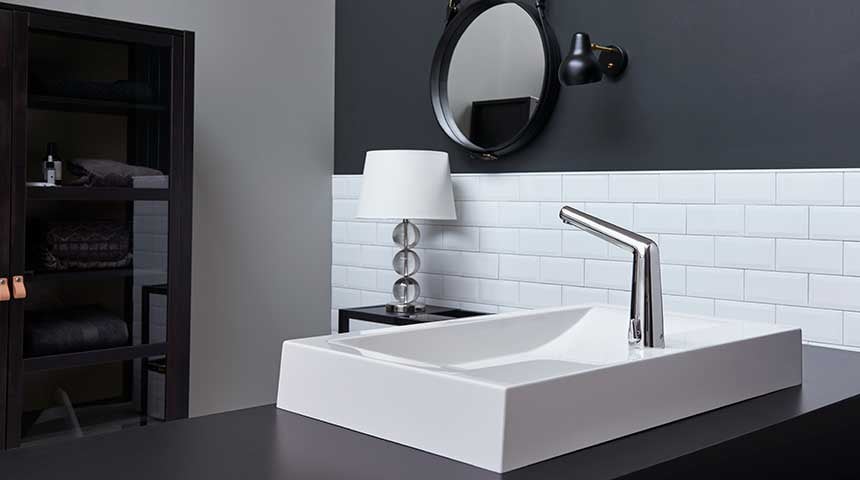 Oras Inspera: advanced and sustainable features wrapped in modern design
By choosing a touchless faucet, consumers can drastically cut down on the water and energy consumption in the household, without compromising on design. Touchless faucets, such as Oras Inspera and Oras Optima, combine a modern design with advanced and sustainable functionalities, making it easy for consumers to implement sustainable solutions to their homes. Oras Electra is among Oras' most popular and versatile product families for touchless faucets with models fit for public places as well as private homes. Furthermore, most faucets have standard dimensions for installation. It is as easy and fast to install a battery driven touchless faucet as manual one. And battery change is relevant after three years of usage. For our touchless faucets with electrical connection and plug transformer, there is no need to change batteries.
A demand for durable and long-term solutions
Another aspect of becoming eco-conscious is a higher evaluation of product quality. Over 80 per cent of Norwegians [adapt to local market] says that product quality, including durability, is among the most important factors when choosing a faucet. Many consider the product's lifespan to be important for the overall level of sustainability they apply to it.
According to Robin Kegö, the sanitary business has a great position to drive the sustainability agenda by providing durable and long-term solutions for households.
– In the sanitary business we build and develop spaces for generations to come. We are responsible for contributing to the entire building, but also managing the daily usage. We strive to always offer long term solutions - in terms of quality and durability, but also when it comes to services. Our products are designed to be easy to maintain to limit the need to replace the full product in case of malfunction, says Kegö.
By offering durable and timeless products with reliable technology consumers save both time and money.
– We still get customers contacting our customer support asking for spare parts to 25 years old products. That makes us happy!
Key take-aways:
An average of 63 % of people in the Nordics consider themselves to be very eco-conscious, which reflects in their preference for sanitary fittings.
Water conservation is the most cost-effective and environmentally sound way to reduce our demand for water.
Choosing a touchless faucet is an easy and efficient way to save water in daily life.
Studies show that touchless faucets could reduce your water wastage with as much as 50 percent.
Most faucets have standard dimensions for installation, making them easily replaceable.
Touchless features make sustainable living an everyday occurrence rather than a short-term choice, meeting the demands of the eco-conscious consumer.
In addition to touchless faucets, Oras offer a variety of other products that support a sustainable lifestyle. These include Oras Vega with inbuilt Eco button (limits both water temperature and water flow), Oras Optima and Oras Nova shower faucets with EcoFlow control for flow limitation, and Oras Apollo eco hand showers where the water consumption is limited to 7l/minute, to name a few.
*On-line survey conducted in May, 2019 by Syno International for Oras in Norway, Finland, Denmark and Sweden. Representative sample of 4117 respondents.
Latest articles