When you think about the life span of an Oras faucet we are practically speaking about tens of years. This is something we need to consider when we are dealing with the product information
Faucets are rather carefree when we compare to many other consumer products, but there are certain points in the life span of the faucet when you might need service from us. At that point we want to be easily approachable, so you find it convenient to get in touch with us.
SUPPORT MATERIALS FOR INSTALLATION AND MAINTENANCE
Most of the information you need for successful installation and maintenance of Oras products can be found online.
Oras spare parts
You can easily find the compatible spare parts from the product pages. Just search with the Oras product number (or Oras product family name), enter the product page and navigate to "SPARE PARTS", which you can find below the product information: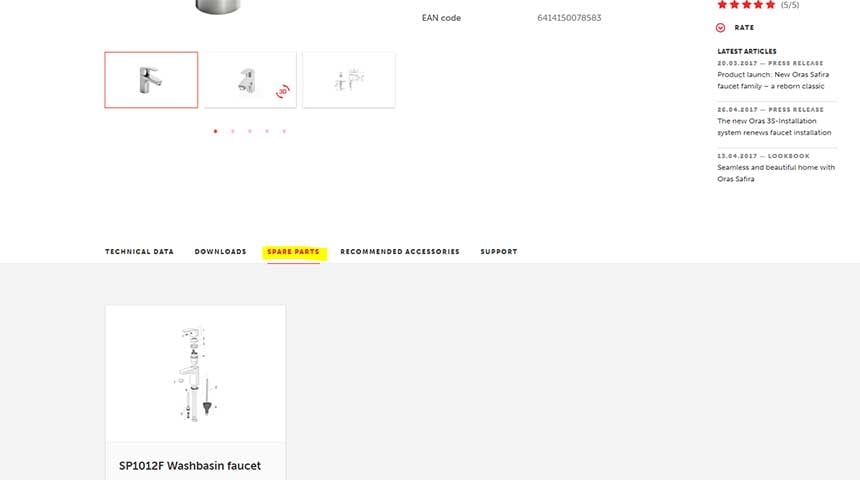 Click open the explosion image and there you go! All spare parts nicely listed.
By clicking on one of the spare parts, you can also see the other Oras products that have this specific part. On the spare part product page, just scroll down to "Compatible products" and that's it.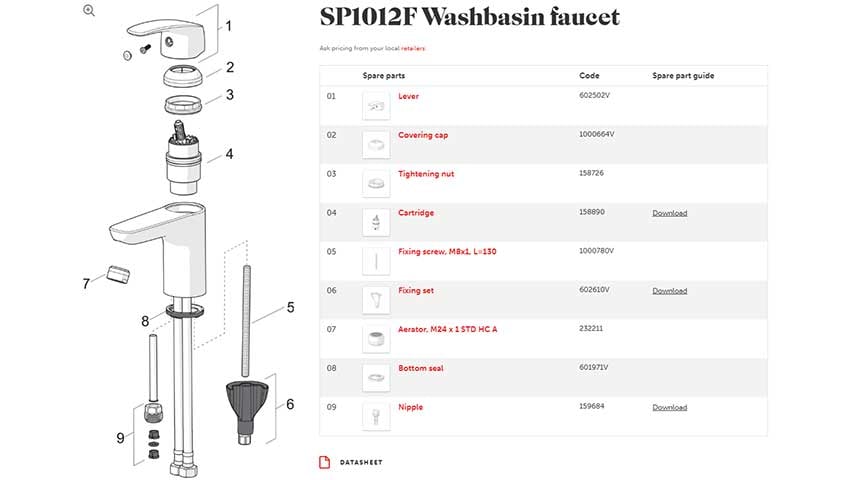 To read more information of a specific spare part or to find other compatible products, you can click on top of the spare part you wish to discover.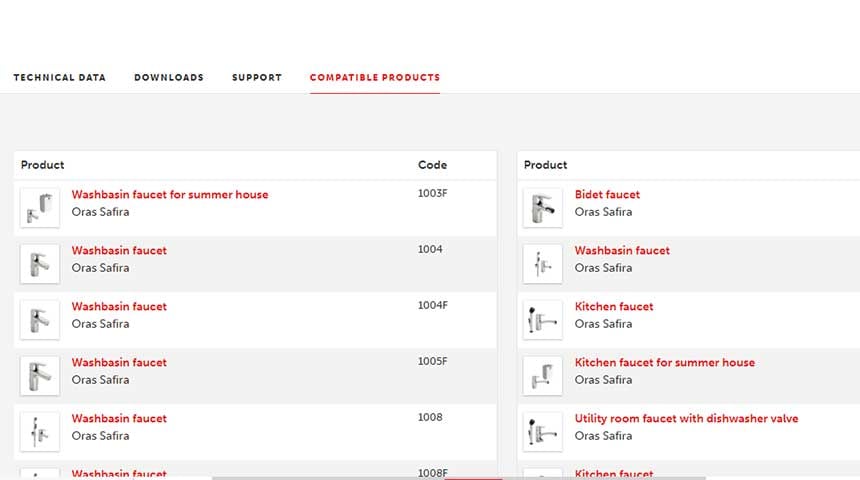 You can see all compatible products for a specific spare part from the bottom of the page under the title "Comparible products".
Datasheet tool
Want to get all product data of one or several products into one pdf file? This is easily doable with the . The output will include product image, description and features, technical data and dimensions, as well as spare part information.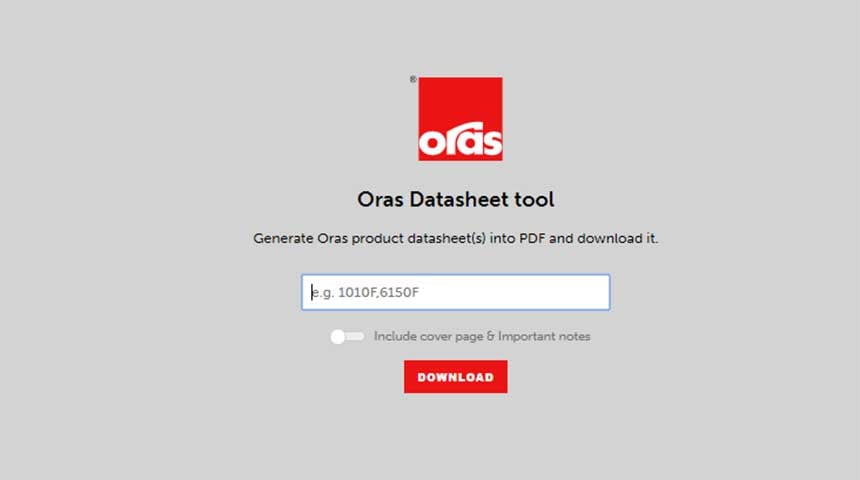 To create a datasheet for multiple products at the same time, just use comma (,) to separate the product numbers.
If needed you can include a cover page and important notes into your pdf file, simply by clicking the slider above the download function. Datasheets can be created by using Oras product numbers or local HVAC codes!
You can conveniently export individual datasheets directly from the product pages as well.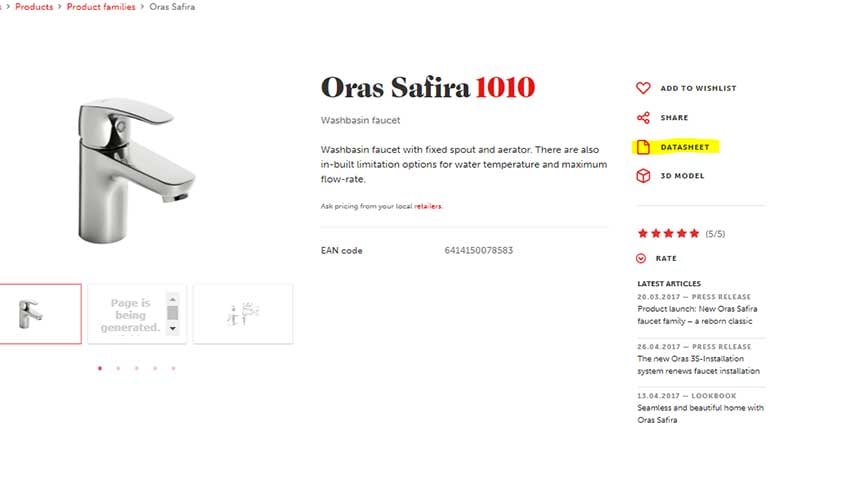 Create datasheet PDFs for individual Oras products directly from the product pages
Installation and maintenance guides
One of the most used support materials is naturally the installation and maintenance manual which is included in the product's packaging. We trust the power of visual communication, so you find not only the installation but also the maintenance of the product visualized to support you.
What if I have lost the printed manual?
Don't worry! All installation and maintenance manuals are available on our website. You can find the manuals from the:
1) product page: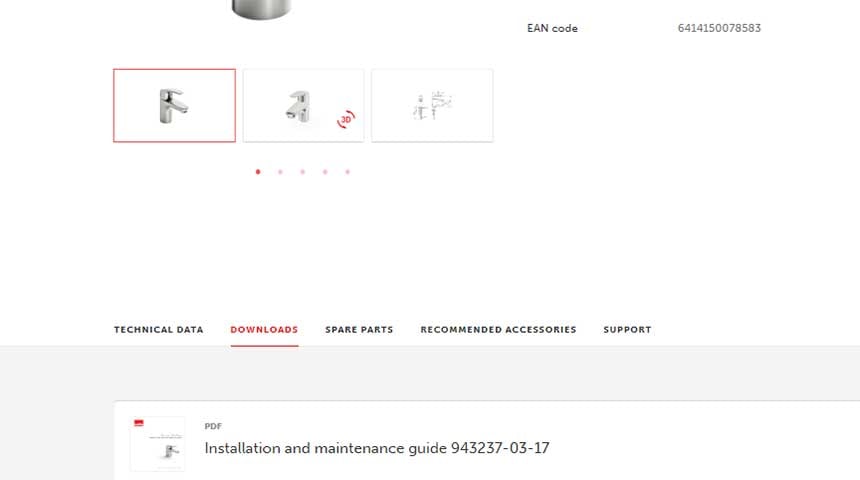 Just search for the product number and open the "Downloads" area inside the product page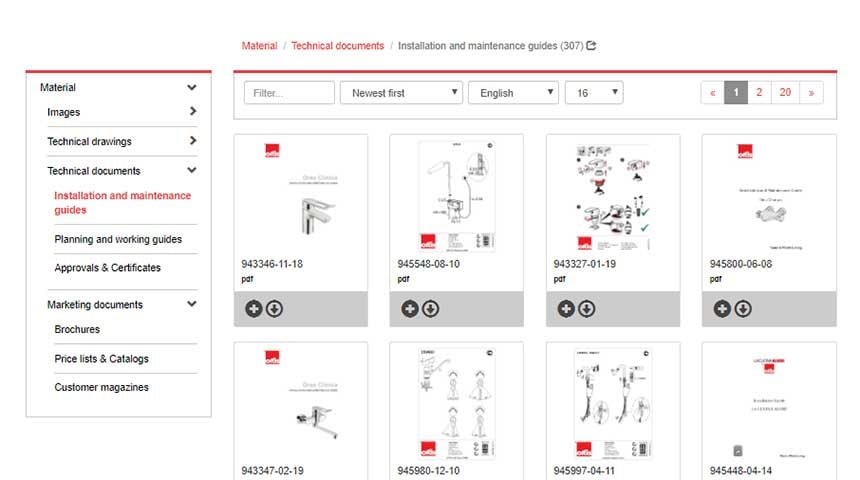 Here you can filter the document by typing the product number or product family in question to find the right manual.
Installation and maintenance videos
We have a large library of installation and maintenance videos available online. The videos are easily accessible on the product pages under "SUPPORT" tab or directly from Vimeo or YouTube. We are constantly working with new service videos, hence, by following us in these video platforms you can stay up-to-date on the latest service and installation tips.
Training
Oras arranges frequently trainings about Oras products to their customers. Most of the trainings are done on demand -basis, so don't hesitate to contact your local Oras sales office and sales rep for further information!
Oras PROacademy and eFaucet school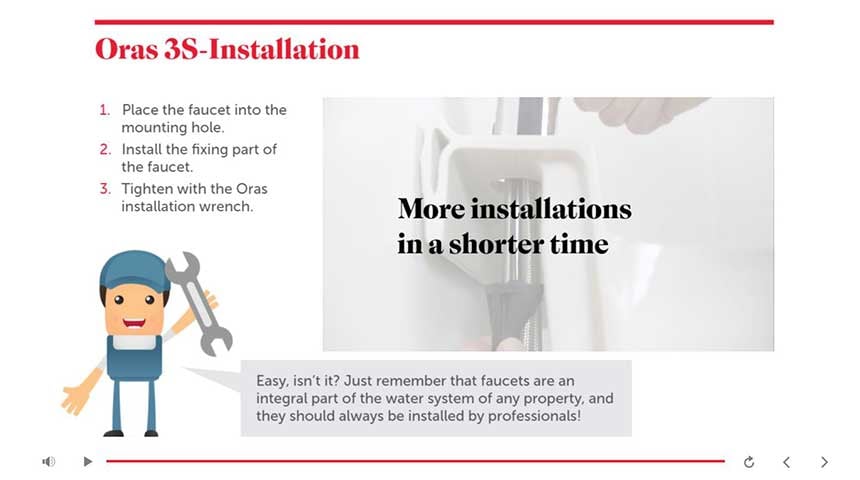 Oras offers online training for all plumbers and HVAC professionals through Oras eFaucet school. By registrating as a user (free of charge, of course), you will have access to a thorough selection of training materials, covering the following topics:
Get Ready: This section covers Oras as a company, explains Oras faucet maintenance and guarantees, as well as introduces methods for saving water and energy.
Get Professional: This section covers the installation of single lever, thermostatic and pressostatic faucets from Oras, as well as introduces their basic maintenance.
Get Smart: This section explains the principles of photocell- and sensor-based electronic Oras faucets and activities relating to the most common service operations.
Get Supreme: In this section, your Oras knowledge is deepened. We will go through novelties and most advanced products, as well as their installation and service.
Professional articles
Monthly, we publish new installation and maintenance tips under Oras Stories about new products and most frequently asked questions. In order to stay update on these, you can subscribe to our professional articles newsletter and get the latest news directly into your email!
Prefer the "personal touch": contact our lovely customer support!
If you prefer having a nice chat with real people, why don't you contact our friendly customer service? There are real, service-minded smiling people to answer your questions in all the market areas we operate. Here, as an example, here is our technical support team rom Finland ready to answer to any product related questions you might have during the business hours. Outside of service hours, our website is there to support you in any questions you might have.

Beside our current product information, we are enthusiastically working on to develop something new all the time to service our customers – currently with a solution to offer product information conveniently via mobile devices. But let us introduce that one to you later – keep on following our articles or subscribe to our newsletter (hyperlink to newsletter form) to stay tuned!
Latest articles